Sydney Sixers shine and claim their first victory of BBL 2022 as Hobart Hurricanes lose wickets in regular intervals at SCG on Thursday. Catch live scores and highlights of BBL12 and Sydney Sixers vs. Hobart Hurricanes match 11 highlights.
SYDNEY SIXERS CLAIM THEIR FIRST VICTORY OVER HURRICANES.
Sydney sixers vs. Hobart Hurricanes match 11 highlights: Sydney Sixers struggling for their first win so far in the tournament defeated Hobart Hurricanes by 6 runs in a 14-over match at SCG on Thursday and finally got 2 points in the points table.
K. PATTERSON AND J. PHILIPPE GIVE A GOOD START TO SIXERS.
Sydney Sixers were the first team to bat after winning the bat flip. As the powerplay had been reduced to 3 overs, K. Patterson and J. Philippe geared up and gave Sixers the start they wanted.
After 5 overs being bowled, Sixers gained the upper hand over Hurricanes and crossed the 50-run mark without loss.
While every bowler was being targeted, J. Neesham was the only bowler who drew the first blood with his wide shot delivery that took the edge of K. Patterson playing on 38 runs by just facing 25 deliveries.
In the following over, S. Khan got his man J. Philippe and bagged the 2nd wicket for his side.
J. Philippe could have been dangerous if he had survived a few deliveries more as he was on fire with 43 by just facing 21 balls in Sydney Sixers vs. Hobart Hurricanes match 11 highlights.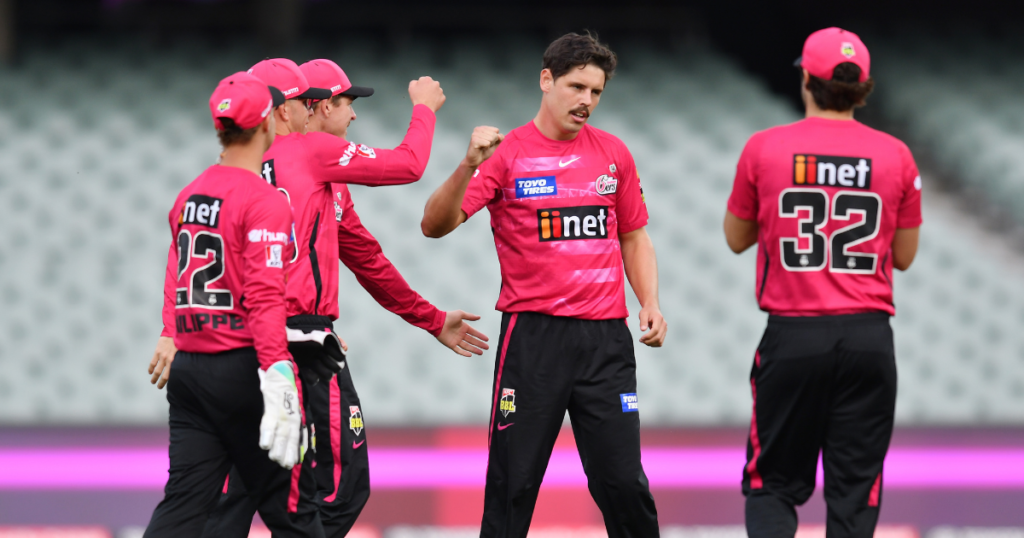 M. HENRIQUES ANOTHER GOLDEN DUCK. P. DOOLEY TWISTS THE GAME.
After losing both openers, Sixers slipped into a crisis when S. Khan in the same over got M. Henriques caught & bowled and it was the second straight golden duck of the tournament for Sixers Skipper.
Hardly did Sixers manage to overcome the loss when P. Dooley came to make the situation even worse for Sixers as he sent both J. Silk and D. Christian scoring none back in the dugout. J. Silk who was playing his 100th game was unlucky.
From an action-packed start to losing their four wickets under just three runs, Sydney Sixers had lost the track somewhere.
J. Vince and H. Kerr played some good cricket in the end and because of them, Sixers put a competitive total of 137 on board for Hurricanes.
SIXERS' BOWLERS MAKE IT HARD FOR HURRICANES TO CHASE.
In the latter half of Sydney Sixers vs. Hobart Hurricanes match 11 highlights. Hurricanes openers D. Short and M. McDermott expressed their intention clearly as they both were playing fearless cricket on the field till Sixers bowlers came to spoil the party.
Giving 15 runs in the first five deliveries, S. Abbott finally got a delivery in which he had a reason to smile as he picked his first for the day.
Steve O' Keefe took the 2nd as B. McDermott only scored 17. Including openers, Hurricanes middle order also scored in double digits that would not seem enough M. Wade(15), S. Khan(14), T. David(8), and J. Neesham(5) both contributing 13 runs.
ASIF ALI'S 41 COMES TOO LATE AS SYDNEY SIXERS CLAIMS THEIR FIRST VICTORY.
When Hurricanes had lost all hope and were about to lose the game too. A. Ali 41 facing just 12 deliveries with a strike rate of above three hundred might have threatened Sixers for some time, but Naveen-Ul-Haq got rid of him in the 2nd ball of the final over and Sydney Sixers claimed the first victory of this season in Sydney Sixers vs. Hobart Hurricanes match 11 highlights.