Bangladesh captures the 3-match series with a 2-0 after defeating India by 5 runs at Sher-E-Bangla Stadium in Mirpur on Wednesday.
after winning the toss, Liton Das opted to bat but this seemed a wrong decision, as Bangladesh lost early wickets and their top order collapsed on 69/6. India had a good chance to sweep the remaining side but M. Hasan had different plans when he entered the arena.
He took charge of rescuing his team from the all-out situation and made his way to his maiden century with the help of 4 sixes and 8 fours and a strike rate of 120.48.
In the rescue, he was joined by Mahmudullah, whose slow but effective contribution of 77 runs (7 fours), helped Bangladesh reach a fighting total of 271/7.
Early blows given by M. Siraj and W. Sundar in India vs Bangladesh 2nd ODI seemed to be hidden by a 148-run partnership. From India's side, W. Sundar was the only bowler to get 3 wickets by only leaking 37 runs. M. Siraj and U. Malik both got 2 wickets each.
Coming to chase 271 and level the 3-match series, India lost their big fish, Virat Kohli who came to open the innings with S. Dhawan in place of the skipper who injured his thumb while fielding in the first innings, in the very second over of India vs Bangladesh 2 ODI match.
Following V. Kohli, S. Dhawan was also sent to the pavilion in the next over with just scoring 8 runs. At no. 3 S. Iyer survived and made the scoreboard move but he wanted support from the non-striker's end which he did not get until A. Patel joined the party. Both helped India cross the mark of 150.
Hopes of winning the 2 ODI match between India and Bangladesh were soon ruined by Bangladesh when both the batters got dismissed before reaching the 200 mark.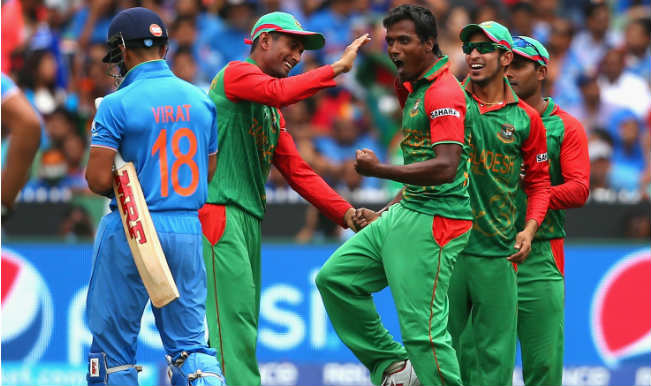 Rohit Sharma despite his injury came to bat late and kept the hopes alive for India. The moment he entered, he started playing shots all along the ground. Quickly did he reach his 50 with 5 sixes and 3 fours and a strike rate of 182.14.
To win the 2nd ODI of India vs Bangladesh and level the series 1-1, the skipper tries his best when on the last ball 5 runs were needed to do so. But M. Rehman shut his bat with a cunning yorker and stole the 3-match series with 2-0.
Rohit Sharma will not be able to play the 3rd ODI between India and Bangladesh as he has been ruled out because of his injury in the 2nd ODI of India vs Bangladesh.